Sky News Arabia is Arabic language current affairs and news channel based in Abu Dhabi. It launched on 6 May 2012. It broadcast main area focus is in North Africa and the Middle East. Two group owns it Sky plc UK based and Media Investment Corporation Abu Dhabi (ADMIC). ADMIN possessed by Abu Dhabi Emirates royal family Mansour bin Zayed Al Nahyan. Formerly the channel used the Sky plc sky news brand.
The channel headquarter is in twofour54 Abu Dhabi and its bureau across MENA alongside offices in Washington D.C and London. It has the large studio with many permanent sets used for different programs. Its studio also consists of the 10-meter wide video wall. The technical integration procedure runs from channel studio from April 2011-February 2012 with the cooperation of Television systems limited.
Slogan
New Horizon
Website
www.skynewsarabia.com
Watch Sky News Arabia Live Stream
Here you can watch free Sky News Arabia online streaming in full HD quality. It is an Arabic international news channel broadcasting 24/7 hours.
Read More about Sky Arabia Live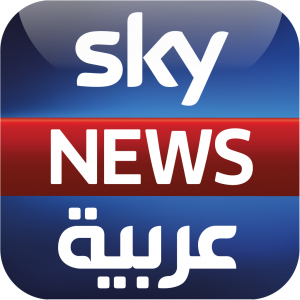 On 29 November 2010 Sheikh bin Zayed Al Nahyan and BSkyB announced to operate the Arabic language free to air network by 50/50 partnership. Head of International sky news Adrian Wells was appointed to head the launch of the channel. Nart Bouran selected as the first director of Sky News Arabia in February 2011. Bourn was a former director at Al Arabiya, and Nicholas Love hired as Director of Finance.
21st Century Fox shareholder Al-Waleed bin Talal had 39.1% stake in BSkyB announced in September 2011 to launch Arabic news channel Alarab News Channel which is a partner of Bloomberg television. It is a competitor of Sky News Arabia. The channel began operations in February 2012 in twofour54 media zone Abu Dhabi and first time on aired on 6 May 2012.
Programming
Sky News Arabia claims independent reporting and avoids partisan reporting. More than 50 million households in MENA facilitated by a channel on cable and satellite and the internet. The channel is available on Sky channel 840 in Ireland and U.K and on the MTV platform in Canada, Australia, and South and North America. It broadcast different news programs and current affairs programs for the whole week. Schedule of programs given below.
| | | | |
| --- | --- | --- | --- |
| Sr.No | programs | Timing | Category |
| 1 | News |  4:00 AM – 5:00 AM 10:00 AM – 11:00 AM 1:00 PM – 4:00 PM 6:00 PM 11:00 PM | Latest news and sports from Arab world |
| 2 | Monday Morning Tuesday Morning Wednesday Morning Thursday Morning Sunday Morning |  6:00 AM-9:00 AM | Biggest stories of the day about sports, business |
| 3 | Min Al Riyadh |  12:00 AM | Weekly show about Saudi affairs |
| 4 | Al Massaa |  5:00 PM | Gulf new summaries, sports news and current affairs |
| 5 | News room | At 7:00 AM-8:00 AM | Global news and current affairs |
| 6 | Malaeb | Monday At 9:00 PM | Sports news and documentaries |
| 7 | Al Qula | At 10:00 PM | News and documentaries from Arab world |
| 8 | Neeran Sadiqa | Tuesday at 9:00 PM Wednesday at 12:00 PM | Talk show |
| 9 | Rowad | Thursday at 9:00 PM Saturday at 12:00 PM | Business stories |
| 10 | Hadeeth Al Arab | Friday at 12:00 PM &9:00 PM Saturday at 5:00 PM | Talk show abut culture and society |
| 11 | A"an Korb | Friday at 5:30 PM Saturday at 7:30 AM | Documentary |
| 12 | Alam Al Taqa | Saturday at 10:45 AM Tuesday ta 3:45 PM | Business program |
| 13 | Hiwar Al Qahira | Saturday at 9:00 PM Sunday at 12:00 PM | Talk show about political and social issues |
| 14 | Afaq Al Istithmar | Friday at 10:45AM Tuesday at 3:45 AM | Short documentary |
| 15 | Masahat | Friday at 7:45 AM Wednesday at 3:45 PM | News and documentary |