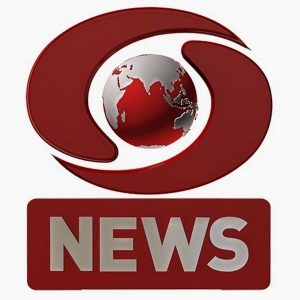 DD means Doordarshan News India. It is online Indian 24-hour terrestrial television news channel. Prasar Bharati started this channel in place of DD Metro on 3 November 2003. The channel approved on 3 October 2003 by Union Cabinet meeting. Formerly the channel is known as Doordarshan Kendra Delhi. Terrestrially available 21.6% by area and 44.9% population of India. Headquarter of the DD news situated in New Delhi India. It broadcast 24 hours News in English, Urdu, Hindi, and Sanskrit. The logo come with a new tagline Only news, Complete News. Breaking News and News Headlines are the key features of DD News.
Watch DD News India Live Stream
Lets watch online DD news online broadcasting from India. There are many famous shows and International news programs broadcasted by this channel. Play it and wait for few seconds
[jw7-video n="1″]
Daily Programs
Website
It first gained popularity among the viewers in 2003-2004 and the revenue of the channel reached up to 2 crores, and DD News earned ten crores. In 2004-2005 it revenue crosses the ten crores. Doordarshan launched a current affairs and news channel in 1995 with the cooperation of CNN called DD CNNi. The channel provided news programs in English by DD3 channel and news via DD National and DD Metro channel. Then in 1999 DD launch its DD News channel which converted on 26 January 2002 into DD Bharati. DD again started DD News network by replacing DD Metro in 2003.
Programming
DD News broadcast 16 hours live news in English, Hindi, and Sanskrit. It also carries the stocks and financial news from National Stock Exchange. Purely DD is a news channel and schedule of the entire week is given below.
| | | |
| --- | --- | --- |
| Sr. No | Programs | Timing |
| 1 | Samachar | Daily 12:00-6:00 AM 11:00 AM 12:00 PM 3:00-5:00 PM 11:00 PM |
| 2 | News | Daily 12:30 AM-4:30 AM 11:30 AM-12:30 PM 4:30 PM 11:30 PM |
| 3 | Kisan Samachar | Daily 5:30 AM |
| 4 | News for Hearing impaired | Daily 6:15 |
| 5 | Sanskrit Samachar | Daily 6:45 |
| 6 | 5 minutes 15 Khabrein | Daily 6:55 |
| 7 | Naya Savera | Daily 7:00 |
| 8 | Break Fast show | Daily 8:00 |
| 9 | Business Morning | Daily 9:00 |
| 10 | Urdu Khabarein | Daily 10:00 AM |
| 11 | Khel Samachar | Daily 1:00 PM & 7:00 PM |
| 12 | Mid day News | Daily 1:30 |
| 13 | Dophar Samachar | Daily 2:00 |
| 14 | Rapid News | Daily 2:30 PM & 3:00 PM |
| 15 | Tejasvani programme | Tuesday & Sunday 2:33 |
| 16 | Rang Tarang | Wednesday & Saturday 2:33 |
| 17 | Good news India | Thursday 2:33 |
| 18 | Cinema is Hafte | Monday & Friday 2:33 |
| 19 | The News | Daily 3:30 & 7:30 |
| 20 | Sports news | Daily 5:30 |
| 21 | Khabar Jeldi Jeldi | Monday – S6:00 |
| 22 | Total health | Sunday 6:00 |
| 23 | Metro Scan | Daily 6:05 |
| 24 | Desh Pradesh | Daily 6:30 |
| 25 | News Night | Monday-Saturday 8:00 – 9:00 |
| 26 | Khabar Duniya Ki | Sunday 9:00 |
| 27 | Late Edition | Tuesday10:00 PM |
| 28 | Charcha Mein | Wednesday 10:00 PM Thursday 11:00 PM |
| 29 | Seedha Samvad | Sunday 10:00 PM |
| 30 | Badi Charcha | Saturday 10:00 PM Sunday 4:00 PM |
| 31 | Candid Conversation | Monday 11:00 PM Sunday 8:30 PM |
| 32 | India First | Saturday 11:00 PM |
| 33 | Aamne Samne | Thursday& Friday 10:00 PM |
| 34 | Raat Saddhe Dus | Tuesday,Thursday& Friday 10:30 PM |
| 35 | Special Program | Wednesday & Monday 10:30 PM |
| 36 | Social Connection | Saturday 9:30 AM Sunday 10:30 PM |
| 37 | Genext | Saturday 5:00 |
| 38 | Market This week | Saturday 6:00 |
| 39 | Jaanane ka Haq | Saturday 6:30 |
| 40 | Vaartaavali | Saturday 7:30 |
| 41 | World Connect | Saturday 9:00 |
| 42 | Open Frame PSBT | Sunday 11:00 PM |