BBC Arabic news channel is BBC owned television channel launched on 11 March 2008. The channel broadcast the Middle East by BBC. It is working on BBC World Service and funded by British television license fee. It is U.K based Arabic language channel, and its broadcasting center located in London. The channel began 24 hours broadcasting from 19 January 2009. Initially, British Foreign Office provides a fund to the channel but 2014, it switched to British television license. In 2011 British government ended the funding to BBC but government increased the funding to BBC Arabic television because of foreign secretary William Hague who assist the Arabic service in the region. The BBC Arabic bring the top stories of the world for their viewers.
Related Channels:
Website
BBC Arabic UK television station can see via this website
www.bbc.co.uk/arabic
Watch BBC Arabic News UK Live Stream
BBC Arabic news available ere 24/7 hours for you. It is telecasting from United Kingdom.

[jw7-video n="1″]
Programs & Schedule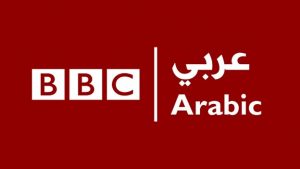 The television channel launched in 1994 by Orbit Communications company -Rome-based and Saudi Arabian Mawarid Holding. The BBC Arabic on air an episode of Panorama which is critical for Saudi government and Lan Richardson blamed the short life of channel. Many staff members of the channel ended the contract with the station and went on Al Jazeera after the dispute which is a competitor of BBC Arabic Television UK. The channel was started again in October 2005, and broadcasting was begun to launch in Autumn 2007 but delayed until 11 March 2008.
Programming
BBC Arabic News Live Stream  broadcast the following programs on weekdays and weekends.
| | | |
| --- | --- | --- |
| Sr. No | Programs | Schedule |
| 1 | BBC news | 12:00 AM |
| 2 | Our world | Monday At 12:05 AM Friday at 7:05 PM |
| 3 | BBC news |  1:00 AM |
| 4 | Egypt GMT | At 1:05 AM At 10:05 AM At 9:05 PM |
| 5 | BBC news | 2:00 AM |
| 6 | Documentaries BBC | 2:05 AM At 7:05 PM |
| 7 | BBC news | 3:00 AM |
| 8 | BBC extra | 3:05 AM At 12:05 PM |
| 9 | BBC news | 4:00 AM |
| 10 | Sports across the world | 12:05 AM Monday at 4:05 AM |
| 11 | BBC news | 5:00 AM |
| 12 | Without chains | 5:30 AM At 9:30 AM |
| 13 | BBC news | 6:00 AM |
| 14 | I Witness | Monday At 6:30 AM Sunday at 3:30 AM |
| 15 | BBC news | At 7:00 AM At 8:00 AM |
| 16 | Dialogue points | 8:05 AM |
| 17 | BBC news | 9:00 AM |
| 18 | BBC news | 10:00 AM At 11:00 AM At 12:00 PM |
| 19 | World midday | 1:00 PM |
| 20 | BBC news | 2:00 |
| 21 | Talk time | 2:05 |
| 22 | BBC news | 3:00 |
| 23 | BBC news | 4:00 |
| 24 | Point of discussion | 4:05 |
| 25 | BBC news | 5:00 |
| 26 | Tech | 5:05 PM At 7:35 PM |
| 27 | Scene | 5:30 |
| 28 | World tonight | 6:00 |
| 29 | BBC news | 7:00 |
| 30 |      ## | 8:00 |
| 31 |      ## |  9:00 |
| 32 |     ## | 10:00 |
| 33 | Alternative cinema | 10:05 |
| 34 | The world this evening | 11:00 |
| 35 | BBC Documentaries | Tuesday at 12:05 AM At 3:05 AM At 4:35 AM At 6:30 AM At 10:05 AM At 2:05 PM At 7:05 PM At 10:05 PM |
| 36 | Tk | Tuesday at 5:30 AM |
| 37 | BBC Akstra | Wednesday at 4:05 AM |
| 38 | Almhhd | Wednesday at 5:30 AM |
| 39 | Outlook | Wednesday at 5:30 PM |
| 40 | Top gear | Thursday at 2:10 AM Friday at 1:10 AM Saturday at 12:10 AM |
| 41 | English education program | Thursday at 9:30 PM Friday at 3:30 AM Saturday at 6:30 AM |
| 42 | Blue cup program | Friday at 10:10 AM |
| 43 | Seven days | Sunday at 2:05 PM |
| 44 | Blue planet program | Sunday at 4:10 PM |