Lets Watch WeatherNation TV to get all latest information about world weather. It is an American based digital, cable and satellite television network that produced the weather news. It possessed by Performance one Media group WeatherNation TV Inc. The channel launched on 27 October 2011. The studio of the network located in Centennial, Colorado. It broadcast nationwide weather forecasts, weather news, tropical weather events and local weather segments. It was the first US channel which can be watched online and on cable/satellite without any registration.
Slogan
Weather pure and simple
Weather. It's what we do
Website
Watch WeatherNation TV Live Stream
Watch Weathernation TV online streaming on website www.livenewsmag.com. It is telecasting 24/7 hours live weather news transmission from the United States.
Read More About Weather Channel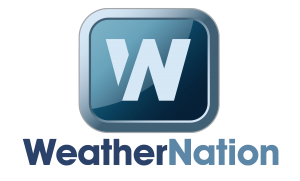 Performance one media purchased weather Nation brand in 2010 from Original Weather Nation( now Broadcast weather) which provides weather services to websites and local stations. Broadcast weather provides weather news transmission for WeatherNation channel. WeatherNational TV Inc make an agreement with National Cable Television Cooperative in March 2011 for a national channel.On 24 October 2011, Weather Nation acquired the first television outlet for broadcasting in Stuart Florida as WHDT. For sometimes it was broadcasting from WIYC in Montgomery, Alabama. In January 2012 Weather Nation expand the transmission facilities in Minnesota (KARE-TV), Little rocks, Fort Smith, Arkansas (KMYA-DT), Arkansas (KFDF-CA) and Springfield Missouri (KFFS-CA). Initial WeatherNation TV's were low power stations and not affiliated with major television networks. The system made the agreement with two major broadcasting groups to run WeatherNation on affiliated sub channels from 2012-2014.
In 2014 it expands the agreement with Gannett company who is an owner of Minneapolis (KARE-TV) to carry the network programs on subchannels like Denver (kUSA) Atlanta (WXIA-TV) and Washington D.C. (WUSA). The network signed with Sinclair Broadcast group on 27 October 2014 to carry programs on WBFF in Baltimore. In November 2014 many Sinclair-owned stations made an agreement with WeatherNation in markets like Oklahoma City, Mobile Alabama, Bakersfield, California. Weather Nation launched on Direct TV Channel 361 on 14 January 2014 due to a dispute between Direct television and The Weather Channel. Dish Network announced the agreement with a TV on 21 April 2015 for its lineup and available on it on channel 215.
Programming
WeatherNation TV produced the national, regional and local weather forecast segments. It provides analysis of weather condition around the United States. The channel provides the weather alerts by Storm prediction center. It produced the local forecast segments under title Local Weather Now. The program provides the current weather observations, low and high-temperature update.
Following are the sections of Local Weather Now
Dewpoints
Current dew points
Forecast
National radar at 48 hours ahead.
Satellite and Radar
National radar for last two hours.
Temperatures
Current temperature
Watches and warnings
Today severe weather outlook.
Forecast Temp
The temperature at 36 hours ahead. The schedule of weekly programs is given in the table.
| | | |
| --- | --- | --- |
| Sr. No | programs | Timing |
| 1 | Weather nation late evening edition | Monday to Sunday At 12:00-2:00AM |
| 2 | Weather Nation early outlook | At 3:00AM-5:00AM |
| 3 | Weather Nation morning edition | At 6:00AM-11:00AM |
| 4 | Weather Nation today | At 12:00PM-5:00PM |
| 5 | Weather nation evening edition | At 6:00PM-11:00PM |