In 1955 NBC affiliated station KTVF Channel 11 came into existence in Fairbanks, Alaska. Chena Broadcasting LLC owns the station. The station operated Tanana Valley Television company. The transmitter of the station situated on Ester Dome and studio was located in downtown Fairbanks. Its call letters meaning is Television Fairbanks. KTVF Channel 11 Fairbanks NBC on aired the top shows of ABC like Three's company, Happy Days; Eight is Enough, Super Bowl XIX and Laverne and Shirley.
Related: Channel 2 News KTUU Live
Slogan
Interior Alaska's most trusted news source
Website
www.webcenter11.com
KTVF Channel 11 Fairbanks NBC Live Stream

Read More About KTVF News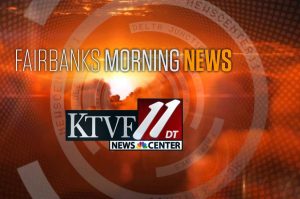 The station first on aired in February 1955. The station gotThe station got
CBS affiliation
on 1 April 1996. The station affiliated with ABC in 1970 and broadcast the ABC programs until 1985. For some time KTVF remains affiliated with NTA film network. It affiliated with CBS from 1955-1996. In 1996 the station moved from CBS to NBC. KTVF broadcast the UPN programs on weekends in 2000. The station founded Augie Hiebert, he retired in 1997 and sold the station to Ackerley group in 1999. Ackerley merged with CCC (Clear Channel Communications) in 2001 and sold the station in 2007 to Newport Television.
KTVF Channel 11 started the NBC programs in high definition on 12 February 2010. On 31 October 2011, Newport sold the station to Chena Broadcasting who is present owner of the station.
Programming
KTVF produced different programs for their viewers on weekdays and weekends.
Weekdays Programs
| | | | |
| --- | --- | --- | --- |
| Sr. No | Programs | Schedule | Category |
| 1 | The tonight show starring Jimmy Fallon | At 12:00AM | Night talk show |
| 2 | Late night with Seth Meyers | At 12:30AM | Talk show |
| 3 | Last Call with Carson Daly | At 1:30AM | Entertainment program |
| 4 | Mad money | At 3 :00AM | News |
| 5 | Everybody loves Raymond | At 5:30AM | Comedy |
| 6 | Early today | At 6:00AM | Morning show |
| 7 | Fairbanks morning news | At 6:30AM | News |
| 8 | Hot in Cleveland | At 2:00PM | Comedy |
| 9 | Day of our lives | At 1:00PM | Drama |
| 10 | Modern Family | At 2:30PM | Comedy |
| 11 | FAB Life | At 3:00PM | Cooking show |
| 12 | Dr.OZ show | At 4:00PM | Health program |
| 13 | Fairbanks evening news | At 6:00PM | News |
| 14 | The Middle | At 7:00PM | Comedy |
| 15 | America's got talent | At 8:00PM | Reality show |
| 16 | Better late then never | At 10:00PM | Reality show |
| 17 | News center final | At 11:00PM | News |
| 18 | To be Announced | Friday at 9:00PM | Informative program |
| 19 | Phone Booth | Thursday at9:00PM | Drama |
Weekend Program
| | | | |
| --- | --- | --- | --- |
| Sr. No | Programs | Schedule | Category |
| 1 | Today weekend | At 5:00AM | Morning news |
| 2 | Floogals | At 7:00AM | Comedy |
| 3 | Nina's world | At 7:30AM | Animated series |
| 4 | English premier league soccer | At 8:00AM | Sports program |
| 5 | Premier league goal zone | At 10:30AM | Sports program |
| 6 | Beach Volleyball | At 11:00AM | Sports program |
| 7 | Horse racing | At 12:30PM | Sports program |
| 8 | Ruff-ruff Tweet &Dave | At 2:00PM | Animated series |
| 9 | The China show | At 2:30PM | Comedy |
| 10 | Noodle and Doodle | At 3:00PM | Children program |
| 11 | The Middle | Saturday At 3:30PM | Comedy |
| 12 | Modern Family | At 5:00PM | Comedy |
| 13 | Rizzoli &Isles | At 7:00PM | Drama series |
| 14 | Aquarius | At 9:00PM | Drama |
| 15 | Saturday night live | At 11:30PM | Comedy |
| 16 | Open house NYC | Sunday at 1:30AM | Reality show |
| 17 | Scooby-Doo | Sunday at 2:30AM | Comedy program |
| 18 | The Closer | Sunday at 6:00AM & 7:00PM | Drama |
| 19 | Sunday today withWillie Geist | Sunday at 7:00AM | News |
| 20 | Meet the Press | Sunday at 8:00AM | News |
| 21 | Red Bull signature series | Sunday at 10:00AM | Sports program |
| 22 | Global Rallycross | Sunday at 11:00AM | Sports program |