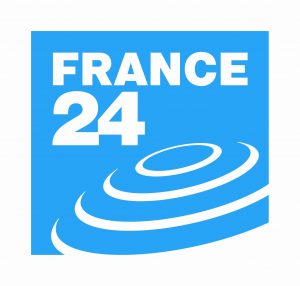 France 24 is non-stop international news channel broadcast 24 hours in a day and began broadcasting on 6 December 2006. France 24 covers the international news and current affairs program. The headquarter of the channel is located in Paris, France and owned by France Medias Monde. The aim of the network is to convey the French values all over the world and cover the international news from a French perspective.
It produced programs in French and Arabic language and sometimes in the English language. The annual budget of the channel is almost €100 million per year. It is available in the world on cable and satellite and available on own iPhone and Android apps from 2010.
Watch France 24 Live Streaming
Watch 24/7 hours France 24 news live stream telecasting online transmission from France. The TV channel covers all the activities around the world.


France 24 Programming
Slogan
Liberté, Égalité, Actualité
International News 24/7
Website
French prime minister Jacques Chirac desired an international television channel in France and requested to TV5, Radio France Internationale, but his offering was disorganized and ineffective in 1987. In 1990 first gulf war the CNN International coverage display the power of international news channel and Philippe Seguin want to create a French language channel. In 1996 Alain Jupp asked RFI president to create French international news channel. He proposed TV5, CFI AND RFI in 1997 with corporation Téléfi.
In 1993 EuroNews set up in French language commentary. After many disputes, A French channel launched on 6 December 2006 and available online as web stream which covers the France, Middle East, Europe, Africa and the United States. In 2007 Watch France 24 live stream started transmission in Arabic.
Programming
France 24 broadcast in three languages French, Arabic and English, The programming divided into news coverage, news magazines, and special reports. Sports and some entertainment programs also broadcast on the channel.
| | | | |
| --- | --- | --- | --- |
| Sr. No | Programs | Timing | Category |
| 1 | The news | 12:00 AM and after every half hour | News |
| 2 | Headlines | 12:15 AM and after every 30 minutes | News |
| 3 | The Business | 12:16 AM 1:18 2:17 3:16 | Business Program |
| 4 | Sports | 12:23 12:51 1:51 | Sports program |
| 5 | Weather world | 12:28 12:58 1:28 | Meteorological program |
| 6 | Focus | 12:46 7:15 PM | Report from France24 |
| 7 | In the French press | 1:21 AM | Entertainment program |
| 8 | Focus plus spots | 2:45 | News program |
| 9 | In the world press | 3:21 | News |
| 10 | The Observers | 4:51 10:15 PM | News show |
| 11 | Focus in Focus | 5:15 AM | News program |
| 12 | Tech 24 | 5:45 | Technology program |
| 13 | Fashion | 6:10 | Fashion news |
| 14 | Encore | 6:16 11:15 7:45 PM | A debate program |
| 15 | Reporters | 6:40 AM | Reports from around the globe |
| 16 | In the Pres | 7:21 | News program |
| 17 | Culture critics | 8:16 | Cultural news |
| 18 | Revisited | 9:11 | Arts and cultural news |
| 19 | The 51 percent | 9:40 10:15 PM | Stories of women |
| 20 | Talking Europe | 10:10 AM | Talk show |
| 21 | The debate | 1:10 PM 9:11 | Debate program |
| 22 | Eye on Africa | 3:46 11:15 | News program |
| 23 | France in Focus | 10:45 | News program |
| 24 | Middle East masters | 11:45 AM 8:15 PM | Entertainment program |
| 25 | Business Plus media watch | 5:16 | News program |
| 26 | The world this week | Friday 9:32 | Best international news stories |