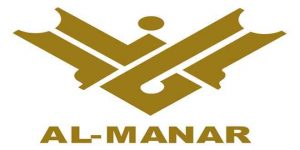 Al – Manar المنار TV is a satellite television station based in Lebanese. The channel founded in 1991 and broadcast from Beirut, Lebanon. Al-Manar was designated as Specially Designated Global Terrorist entity and affiliated with Hezbollah. The channel was banned on 17 December 2004 by United Sates, France, Germany and Spain. In Canada, Australia, and Netherland it is not banned but unavailable due to license and service problems.
Al- Manar works with the motto "Station of the Resistance".
Watch Al Manar TV Lebanon Live Streaming
Watch online Al Manar TV that is telecasting from Lebanon. It is one of the Most famous News Channel in the country.

Read More
Slogan
A Flame that will not be Extinguished
Website
| | | |
| --- | --- | --- |
| Sr. No | Contents | Details |
| 1 | Launched Date | 4 June 1991 |
| 2 | Owner | Lebanese Communication Group |
| 3 | Country | Lebanon |
| 4 | Headquarter | Beirut |
| 5 | Language | Arabic |
| 6 | Broadcast area | Middle East and Europe |
First terrestrial broadcasting of Al-Manar begun on 4 June 1991 from Beirut. The satellite broadcasting of the channel started in 2000 at the cost of million dollars. The station studio situated in Haret Hreik in a south of Beirut from where Hezbollah was also based. Initially, the channel run by few media studied people, and after a year 150 people were employing in Al-Manar.
In 1991 the channel broadcast its transmission only 5 hours daily. Regular broadcasting of news bulletin started before 1992 election, and in 1993 the channel spread its broadcasting several hours per day and also extended the signals to the south part of the Bekaa Valley.
In 1996 Lebanese parliamentary elections many additional antennas were fixed in North Lebanon and station can be seen in North Israel and West Syria. Al-Manar extended its broadcasting 20 hours in 1998, but in 2000 it was limited to 18 hours. In 1996 Al-Manar appealed the government for the license, and in July 1997 Al-Manar got the license. The channel has 15 million viewers in 2004 worldwide. The satellite broadcasting popularity increased in 1990 in Lebanon. To compete with other stations, Al-Manar announced to launch a satellite channel on 9 March 2000. In November 2000 Al–Manar started its transmission via satellite.
Programming
Al-Manar TV produced 25% news program, 25% drama series and family programs and 25% talk shows and sports.
| | | |
| --- | --- | --- |
| Sr. No | Programmes | Category |
| 1 | Beit al-ankabut (The Spider's House) | Talk show |
| 2 | Hadith al-sa'a (Talk of the Hour) | Talk show |
| 3 | فقه الحياة (Jurisprudence of life) | Religious program |
| 4 | بهشتي زهراء (Beheshti Zahra) | Religious talk show |
| 5 | Matha ba'ad (What's Next?) | Talk show |
| 6 | Al-manr al-saghir (The Little Manar) | Children program |
| 7 | Ma'al Hadath (With The Event) | Talk show |
| 8 | Al-mushahid shahid (The Viewer Is the Witness) | Game show |
| 9 | Milafat (Files) | Talk show |
| 10 | Goal and Tis'in daqiqa (Ninety Minutes) | Sports program |
| 11 | Ghoul (Goal) | Sports program |
| 12 | Bayna Kawsayn (Between The Brackets) | Talk show |
| 13 | Al-din wa al-hayat (Religion and Life) | Talk show |
| 14 | Etiquette | Religious program |
| 15 | Nun wa al-qalam (The 'Nun' and the Pen) | Talk show |
| 16 | أسرار الحج رحلة الخلق الى الله (Secrets of the pilgrimage to the creation of God) | Religious program |
| 17 | Between brackets | Political program |
| 18 | مسلسل درب الياسمين (Series trail Jasmine) | Drama series |
| 19 | Here Damascus | Political program |
| 20 | ماذا بعد (What then) | Political show |
| 21 | مسلسل الغالبون (Series Victors) | Drama series |
| 22 | Ayday al-khayr (Hands of Benevolence) | Family program |