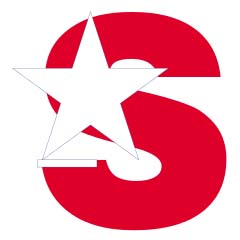 Star TV Turkey is a Turkish television channel established in 1989. It was the Turkey first private channel owned different groups since 1989. Recently the owner of the Star TV is Ferit Şahenk, Doğuş Media Group.  Founder of the Star TV was Ahmet Özal and Cem Uzan. On 5 May 1999, the channel test broadcasting was started and in the early 1990s, it was also called star magic box.
The first logo of the channel was in Blue color S which changed into the red at the beginning of the 2000s. Many Turkish series was the first time on aired from Star TV including, MacGyver,  A-Team, Magnum, M*A*S*H,  P.I. Simon & Simon, Days of Our Lives, The Bold and the Beautiful, Murphy Brown, The Equalizer, Perfect Strangers, Lassie,  Dallas, Dragnet, The Jeffersons, Charles in Charge, Wiseguy, Twin Peaks, Married. With Children, General Hospital.
All My Children, Santa Barbara, Another World, 21 Jump Street, Miami Vice, Out of This World and Airwolf,  Star Trek.  Star TV was also the first Turkish channel start digital broadcasting in 1999. Dogan media group purchased the channel in September 2005 for a bid of $306.5 m at the auction. On 17 October 2011, they sold the Start TV to Ferit Şahenk, who is the recent owner of the channel.
Watch Star TV Turkey Live Stream
Here you can watch 24/7 hours Star TV Turkey that is telecasting online streaming from Turkey and it is available for you to watch on this website.



Read More About Star TV Turkey
SloganTürkiye'nin bir Star'ı var! (Turkey has a Star)
Türkiye'nin bir Star'ı var! (Turkey has a Star)
Website
General Information
| | | |
| --- | --- | --- |
| Sr. No | Contents | Details |
| 1 | Launched Date | 1 March 1989 |
| 2 | Owner | Cem Uzan (1989–2004) Ahmet Özal (1989–1992) TMSF (2004–2005) Aydın Doğan (2005–2011) Ferit Şahenk (2011– Present) |
| 3 | Country | Turkey |
| 4 | Headquarter | Istanbul |
| 5 | Language | Turkish |
| 6 | Picture Format | 16:9 (SDTV) (HDTV) |
| 7 | Sister Channels | NTV Spor Kral Pop TV NTV Kral TV |
Availability
Satellite Availability
1
D-Smart
Channel 24 (SD/HD)
2
Digiturk
Channel 27 Channel 327 (HD)
3
Turksat 4A
12015 H 27500 5/6 (SD/HD)
Cable Availability
4
Ziggo (Netherlands)
Channel 772
5
Teledünya
Channel 26 Channel 11 (HD)
IPTV
6
Tivibu
Channel 27(SD/HD)
Programming
Satr Tv broadcast new, drama series in Turkish language and some other programs. Schedule of the entire week is given below
| | | | |
| --- | --- | --- | --- |
| Sr.No | programs | Category | Schedule |
| 1 | Paramparça | Turkish drama series | Monday |
| 2 | Beni Affet | Turkish dramas series | Daily |
| 3 | Muhteşem Yüzyıl: Kösem | Turkish television sequel | Friday |
| 4 | Kara Sevda | Romantic drama series | Wednesday |
| 5 | Yüksek Sosyete | Turkish television series | Saturday |
| 6 | Kiralık Aşk | Romantic comedy series | Friday |
| 7 | Tülin Şahin ile Moda | Informative fashion program | Sunday |
| 8 | Big Brother Türkiye | Reality televisions series | Daily |
| 9 | Celal Pir'le Haftasonu Haberleri | News | Daily |
| 10 | En Güzel Bölüm | Reality show | Weekdays |
| 11 | Anne | Drama series | Tuesday |
| 12 | Hayat Bazen Tatlıdır | Turkish drama series | Sunday |
| 13 | Cesur ve GüzeL | Drama series | Thursday |
| 14 | Star Life | Magazine program | Saturday |
| 15 | Star Haber | News | Daily |
| 16 | Zuhal Topal'la | Entertainment program | Daily |
| 17 | Ozlem Denizmen'la Kadınca | Feminine program | Weekends |
| 18 | Aska Tutsak | Historical/romantic drama series | Weekdays |
| 19 | YÜksekSosyete | Drama series | Saturday |
| 20 | VAHE İLE EVDEKİ MUTLULUK | Entertainment program | Monday |
| 21 | BugÜn | News program on different topics | Daily |
| 22 | Nazlı Öztarhan'la Star Haber | News | Daily |