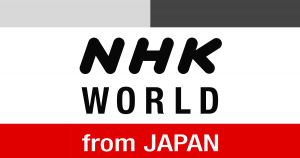 NHK Tv channel is an international channel of NHK(Nippon Hoso Kyokai-Japan Broadcasting Corporation). It launched on 1 April 1998. It broadcast in English and Japanese language. The aim of NHK World is to broadcast throughout the world as well as online and at overseas market DW, BBC World News, RT and France 24. Headquarter of the channel located in Tokyo, Japan. NHK World provides three services NHK World Premium, NHK World TV, and NHK World Radio Japan.
Watch NHK World News Live Streaming
Live stream of NHK World News Japan is available here for free. It is available 24/7 hours for you on this website.
[jw7-video n="1″]
NHK Programming
Slogan
NHK World TV From Japan, Your Eye on Asia-NHK World TV
Website
NHK World News Live Stream started broadcasting on 1 April 1998 and as NHK World TV. It was an information channel which broadcast internationally. NHK World News Live Stream launched a news channel in February 2009 using a traditional logo. Previously it uses the 3 Eggs logo. In news program, it used NHK World DOG on the left bottom corner of the TV screen, and for other programs, it moved to the top left corner. 60% shows produced from JIB television and 40% from private investors. But NHK World DOG was not used when programs broadcast from JIB TV. The current format of the channel is used from 9 December 2009.
Online Programming
| | | | |
| --- | --- | --- | --- |
| Sr. No | programming | Timing | Category |
| 1 | NHK News live | 12:00 AM and after every one hour | News |
| 2 | Inside lens | Monday 2:30 AM Sunday 6:30 PM | Documentary series |
| 3 | J-Melo | Monday 2:30 AM Sunday 8:10 AM | Musical program |
| 4 | Newsroom Tokyo | Monday&Tuesday4:00 AM | News program |
| 5 | Direct Talk | Monday & Tuesday4:45 AM Friday 8:35 PM | Business program |
| 6 | Seasoning the seasons | Monday 10:30AM | Travel documentary |
| 7 | Tokyo fashion express | Monday 6:30 AM Sunday 11:30 PM | Fashion program |
| 8 | J-Trip Plan | Monday 7:30 AM 1:30 PM 7:30 PM | Travel show |
| 9 | Medical Frontiers | Monday8:30 AM & 2:30 PM Tuesday 2:30 AM | Medical information program |
| 10 | Journeys in Japan | Monday4:30 PM & 10:30 PM Tuesday 10:30 AM Thursday 3:30 PM | Travel documentary |
| 11 | Imagine Nation | Monday5:30 PM &11:30 PM Tuesday 11:30 AM | Entertainment program |
| 12 | Samurai Wheels | Tuesday 11:30 PM &5:30 PM | Japan automobile program |
| 13 | Tokyo Eye 2020 | Tuesday 10:30 PM &4:30 PM | Sports program |
| 14 | Kabuki Kool | Tuesday 9:30 PM Wednesday 3:30 PM | Drama series |
| 15 | Science view | Tuesday 8:30 PM & 2:30 PM | Science news |
| 16 | Lunch On | Tuesday 7:30 PM & 1:30 PM | Food program |
| 17 | Her story | Tuesday 6:30 PM | Women documentary series |
| 18 | Great Gear | Wednesday 2:30 PM | Ideas and technology program |
| 19 | Core Kyoto | Wednesday 4:30PM | Travel program |
| 20 | Trails to Tsukiji | Wednesday 1::30 PM | Food program |
| 21 | Rising | Wednesday 6:30 PM Thursday 12:30 AM | Documentary series |
| 22 | Design talk plus | Wednesday 5:30 PM | Fashion show |
| 23 | Japanology Plus | Wednesday 9:30 PM Thursday 1:30 AM | Television series |
| 24 | Biz Buzz Japan | Thursday 8:30 PM | Business program |
| 25 | Sports japan | Thursday& Friday 9:30 PM | Sports program |
| 26 | Asia Insight | Friday 12:30 AM | Asia top stories |
| 27 | Dining with the Chef | Friday 7:30 AM Saturday 1:10 AM | Cooking show |
| 28 | Today's close Up | Friday 8:30 AM Saturday 2:10 AM | Japan stories |
| 29 | Food x Pottery | Friday 4:10 PM | Cooking program |
| 30 | Kawaii International | Friday 9:21 PM | Fashion program |
| 31 | Entertainment Nippon 2016 | Saturday 3:10 AM | Entertainment program |
| 32 | Cool Japan | Saturday 5:10 AM | Cultural program |
| 33 | NHK Documentary | Saturday 8;:10 AM Sunday 2:10 AM | Documentary series |
| 34 | Face to face | Saturday 6:10 PM Sunday 1:10 AM | Music program |
| 35 | Somewhere street | Saturday 9:10 PM | Japanese television program |
| 36 | Little Charo | Sunday 5:40 AM | Animated series |