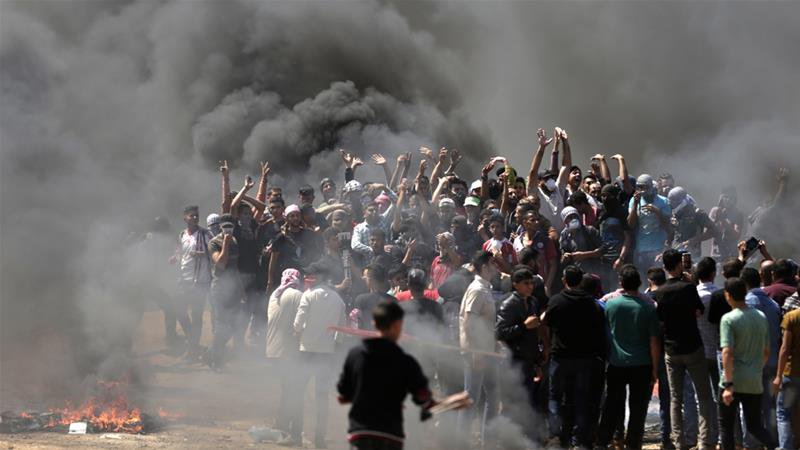 The decision to move the U.S. Embassy in Israel from Tel Aviv to Jerusalem triggered the ongoing protest at the Gaza-Israel fence.
Starting March 6, 2018, known as the Great Return March, these protests are in their sixth week, and they're becoming deadlier.
An inside look
These protests are reported to be organized mainly by the Islamic militant group Hamas, which is in control of the Gaza strip. There are about 40,000 protesters, willing to die, including women and children, at the Israel West Bank.
By this time, Israeli troops have killed at least 58 protesters leaving thousands wounded, as the area has turned into a war zone, except that the forces on each side are hugely mismatched. Palestinians set fire to wheels and swung stones over the fence, while Israeli troops retaliated with live fire, tear gas and airstrikes.
#update: 1,204 Palestinians were wounded by Israeli live ammo today in #Gaza. 116 in serious/critical condition – Gaza MoH. Over 3,000 protesters shot by Israeli soldiers using live ammo since the #GreatReturnMarch started. 101 died. Here's an example of how it looks like pic.twitter.com/9xqaXSTkak

— Asaf Ronel (@AsafRonel) May 14, 2018
The protesters are relentless and full of war spirit now that Jerusalem is in question because of U.S. embassy's move and Israel's activities keep contradicting with the two-state solution. They claim (at least) East Jerusalem to be their rightful land. Given that in 1948, Jews took over Israel and Palestinians either fled or were expelled from their homes, and have been living as refugees ever since.
"We will fight for our homeland until we die," is what the protesters are settled upon.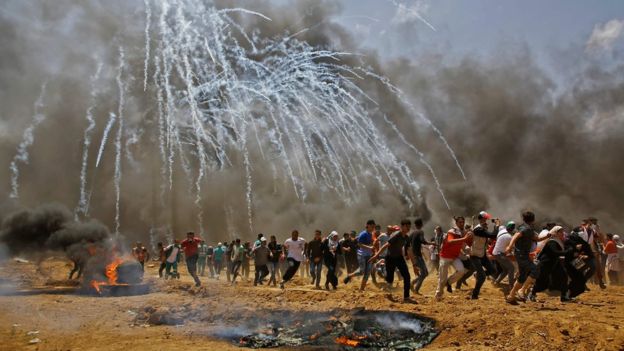 A gory mess, violent bloodbath, dozens of lives lost, yet U.S. officials continue to call this "a glorious day."
U.S. Embassy Moves To Jerusalem; Israel Celebrates
The beginning of this matter dates back to 1995 when the U.S. Congress passed a law stating that Jerusalem should be the home to U.S. Embassy instead of Tel Aviv. Although a slight relaxation in the law enabled the presidents to delay the move every six months, which has been done until now.
Donald Trump decided to break the tradition finally and refused to follow in the footsteps of the last three U.S. presidents; Bill Clinton, George W. Bush and Barack Obama.
He announced in his speech on the opening of U.S. Embassy in Jerusalem, "On December 6, 2017, at my direction, the United States finally and officially recognized Jerusalem as the true capital of Israel."
"Today we follow through on this recognition and open our embassy in the historical and sacred land of Jerusalem. And we're opening it many, many years ahead of schedule."
Ignoring the violent, world peace to abuse consequences of this move, he added: Congratulations, it's been a long time coming.
Big day for Israel. Congratulations!

— Donald J. Trump (@realDonaldTrump) May 14, 2018
Worldwide Response To This Decision And Gaza Violence
The proposed UN draft statement on Gaza by the Security Council was blocked by the US, according to a UN diplomat – @RichardRothCNN reports

— Dianne Gallagher (@DianneG) May 15, 2018
Internationally, this decision hasn't met with the acclaim the U.S. and Israeli officials are displaying.
Arab and Muslim countries are severely criticizing the U.S. Embassy moved to Jerusalem. It is majorly considered as a move "counterproductive to all efforts for world peace."
The UN Secretary expressed being "profoundly alarmed by the sharp escalation of violence" in Gaza Strip.
After the bloodshed that killed at least 58 Palestinians in a single day, not to mention previous fatalities in this string of protests, The UN Security Council put forward a request for an independent investigation into the Israel-Gaza violence. Which the U.S. promptly blocked, proving further that world peace is not exactly on top of its priorities.
Canada's Minister of Foreign Affairs Chrystia Freeland stated, "It is inexcusable that civilians, journalists and children have been victims," reminding the concerned parties their "responsibility to ensure civilians are protected."
Deeply concerned by violence in Gaza Strip. We are saddened by deaths + injuries that occurred today + over past weeks. It is inexcusable that civilians, journalists + children have been victims. All parties to the conflict have a responsibility to ensure civilians are protected.

— Chrystia Freeland (@cafreeland) May 14, 2018
Stance of Israel on violence in Gaza strip
Israel remains steadfast and guilt-free, blaming the Hamas group for this entire episode of violence.
WATCH: The ambassador of Israel to Australia says the blame for the deaths in Gaza is entirely on Hamas. #theboltreport @SkyNewsAust pic.twitter.com/7LRYi0fYpy

— The Bolt Report (@theboltreport) May 15, 2018
Innocent lives are being lost as the U.S. continues to revel in independent, self-serving decisions and the world struggles to search for a peaceful solution which suits all parties.