Taylor Swift is back with a bang! After a six months long hiatus following the release of the 'Reputation' album, Swift has once again stolen all the spotlight with her Reputation tour kick-off.
May 8, Tuesday, a spectacular night went down in Glendale, Arizona, where Taylor stunned fans with Reputation tour opening night.
Pop star pals are always a plus
Tay was joined by equally stunning Camila Cabello and Charli XCX. The three dazzling artists mingled together to "shake it off" in high spirits, arguably making it the most fun part of the night.
THAT CHOREO THO #repTourGlendale @taylorswift13 @Camila_Cabello @charli_xcx pic.twitter.com/YJWQgMOyVo

— Taylor Swift Toronto (@TSwiftTO) May 9, 2018
The "Ready for it" singer performed for about 60,000 fans in The University of Phoenix Stadium. With her sexy moves, killer vocals (Is that even a surprise? It's Taylor Swift we're talking about), and perfectly choreographed two hours' worth of performances, Taylor slayed every heart.
Even if we were "ready for it," no, we were not.
Swift and serpents make a smashing team
Taylor Swift is known for raining innuendos in her music, talks and even concert tours, which fans love to decrypt. In this concert, going with her 'New Taylor' image from the 'Reputation' single "Look what you made me do," she was backed up by huge snake figures all around on the stage.
But this time Taylor actually opened up about her feud with Kim K and Kanye West, explaining the snake-y theme to the world.
Taylor's speech before Long Live 🐍 (📹: @TV3Xpose) #repTourGlendale pic.twitter.com/o2qi3x2uIZ

— Taylor Swift News (@TSwiftNZBU) May 9, 2018
"A couple of years ago someone called me a snake on social media, and it caught on. Then a lot of people were calling me a lot of things on social media. And I went through some really low times for a while because of it. I went through some times when I didn't know if I was going to get to do this anymore."
She sent an empowering advice her fans' way. "I wanted to send a message to you guys that if someone uses name-calling to bully you on social media, and even if a lot of people jump on board with it, that doesn't have to defeat you. It can strengthen you instead," she voiced.
She then further went on to thanking her fans for appreciating her and seeing her "as a human being."
Swift and Perry no longer enemies
A feud – one of the biggest ones in Hollywood- said to be initiated in 2014 officially came to an end when the "Roar" singer sent an actual olive branch to Taylor Swift for her opening tour.
An olive branch is a symbol of peace, which Swift was gifted within a package, with a letter beginning with the words, "Hey old friend."
Taylor liked a post on Tumblr about the olive branch Katy Perry sent her representing a symbol of peace pic.twitter.com/ssz8UHoYqv

— Taylor Swift News (@TSwiftNZ) May 8, 2018
Taylor uploaded an Instagram story revealing the beautiful package from Katy Perry, saying, "This means so much to me."
Our two favorite pop stars are no longer on opposite sides, "overjoyed" is an understatement.
Joe Alwyn, you're gorgeous
Swift serenaded her boyfriend from the stage with song "Gorgeous" pointing and reportedly winking at him. Joe smiled and blushed insanely, making it pretty evident just how completely in love the low-key couple is.
Swifties were pleasantly surprised as Tay performed an acoustic "All too well", taking over the crowd by sweet, overwhelming nostalgia. Taylor's acoustic talents are spectacular, we all know.
All too well 😭 #RepuatationStadiumTour #repTourGlendale @taylorswift13 pic.twitter.com/N37IBFkwN4

— katie 🌻 (@kaitlyn_mariiee) May 9, 2018
Swift also included a remarkable medley of quite a few of her classics which the fans later on described as "heart-stopping."
The Reputation tour is already being considered better than the 1989 tour, given that everyone is wildly fascinated by the bold and striking production, a bombastic performance, and also the huge, friendly snake figures.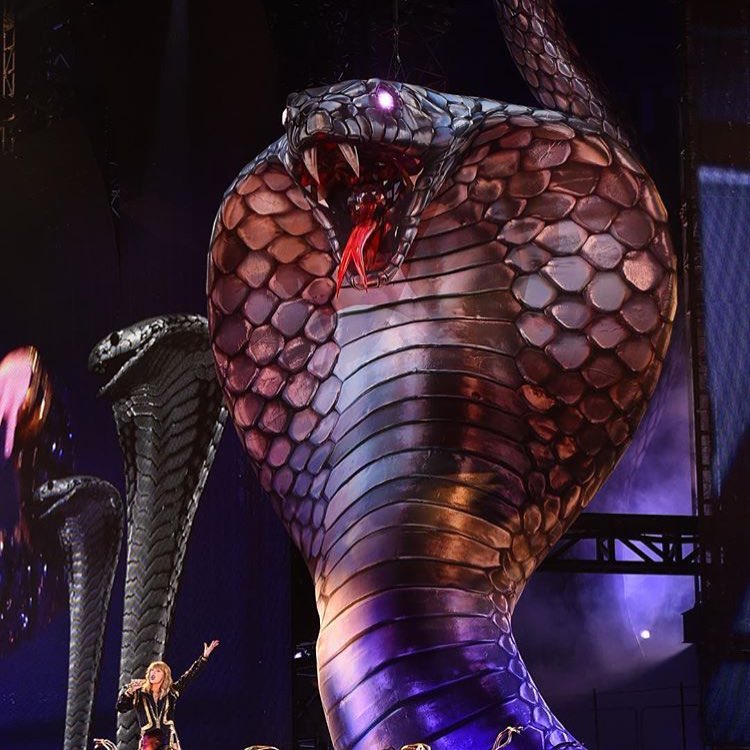 10/10, she nailed it.