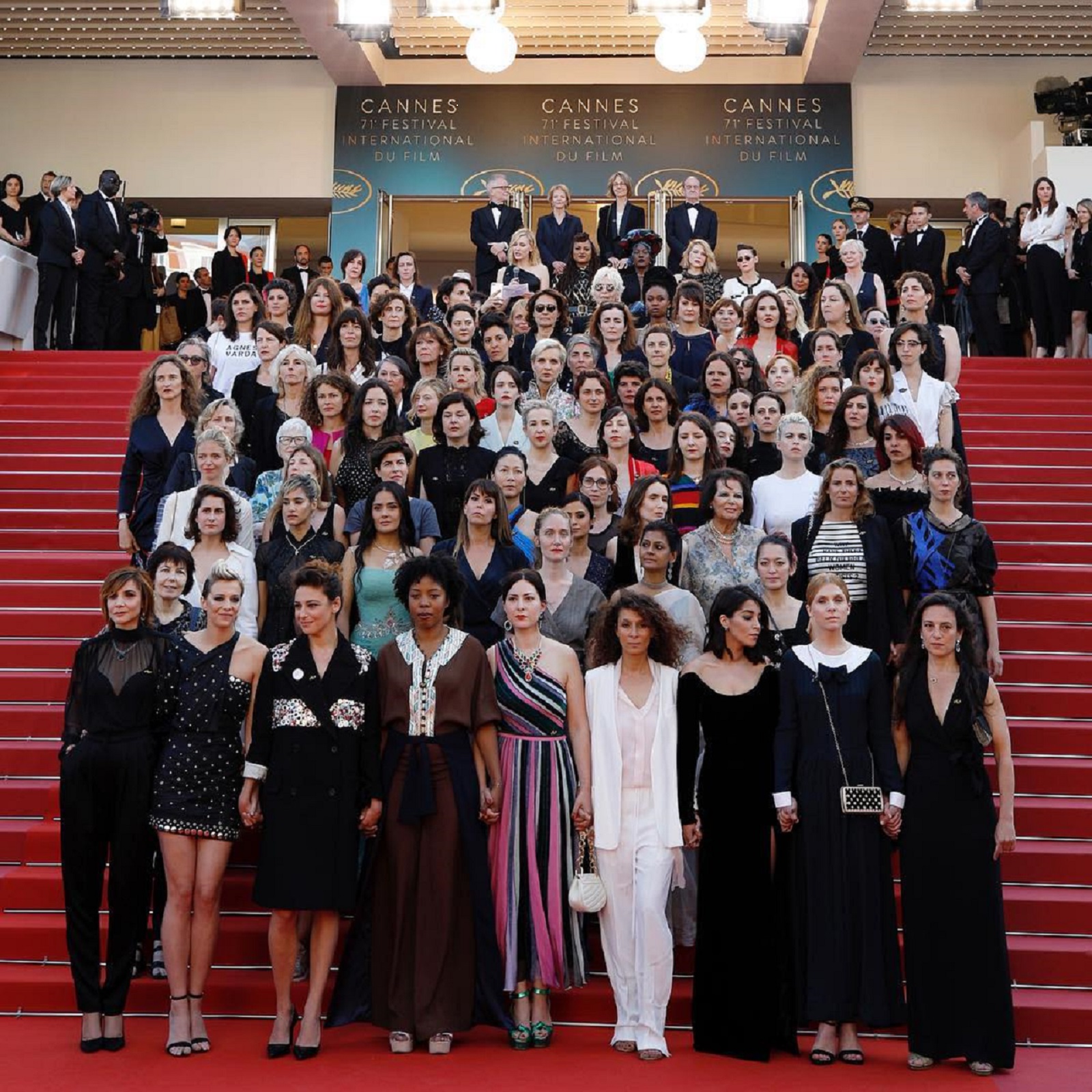 The 71st annual Festival de Cannes transpired to be one of the most monumental one in the history of Cannes Film Festivals. Held in Cannes, France, between the dates of May 8 and May 19, this particular one is a landmark, especially for the women in the film industry.
Hundreds of professionally acclaimed, prominent figures in showbiz have walked the red carpet by now, turning Cannes into a celebrity juncture.
Let's climb!
Led by Cate Blanchett, President of the Jury, 82 of the most influential women in the film industry protested for equal rights in a moving act. Filmmakers and actresses including Kristen Stewart, Amber Heard, Agnes Varda, Salma Hayek, Ava DuVernay and Patty Jenkins, marched up the red carpet with poise and resolution and stood on the stairs, arms linked. In silence and solidarity, these women made history.
L'image du jour : 82 femmes gravissent ensemble les marches. ✊
82 pour les 82 films réalisés par des femmes invitées en compétition depuis la première édition du Festival (contre 1646 réalisés par des hommes).

🎬 Vivez #Cannes2018 sur myCANAL > https://t.co/kcC22Wr07S pic.twitter.com/I7MwNOE0To

— CANAL+ (@canalplus) May 12, 2018
This gives me chills. Rows of women walking arm in arm on the red carpet in silent protest. Go ladies! #Cannes2018 pic.twitter.com/sGpfk80Vwp

— Alicia Malone (@aliciamalone) May 12, 2018
Statistics
The number 82 serves a greater role in this solemn movement. It represents the total number of female directors recognized and promoted by the Cannes Film Festival in the last seven decades, as compared to 1688 male directors who have climbed these stairs.
Doing the math, it doesn't even equal a total of 5% of female directors on males, and that is utterly distressing.
The Cannes Film Festival is receiving massive criticism for this, for not giving due importance and recognition to the works of female directors. Moreover, the most prestigious award given at this festival, Palme d'Or (Golden Palm), has been granted to 71 male directors and only two female directors to date, one of which is Agnes Varda.
Blanchett's Impassioned Speech
Standing along the group, the President of the Jury made a speech from the stairs, accompanied by Agnes Varda, who delivered the speech in French.
L'égalité salariale, l'équité, la diversité… tant de thèmes qu'abordent Agnès Varda et Cate Blanchett dans leur discours commun sur les marches du Palais des festivals !

🎬 Vivez #Cannes2018 sur @canalplus > https://t.co/QEBXL3dUmw pic.twitter.com/ogTJSTCdt0

— cinemacanalplus (@cinemacanalplus) May 12, 2018
"Women are not a minority in the world, yet the current state of our industry says otherwise," she spoke.
"As women, we all face our own unique challenges, but we stand together on these steps today as a symbol of our determination and our commitment to progress. We are writers, we are producers, we are directors, actresses, cinematographers, talent agents, editors, distributors, sales agents, and all of us are involved in the cinematic arts. And we stand today in solidarity with women of all industries."
Her speech also referred to sexual harassment on top of gender inequality in workplaces, as she stated what was expected of responsible institutions and the government to provide women with: "A world that allows all of us in front and behind the camera, all of us, to thrive shoulder to shoulder with our male colleague".
Moving, historic, 82 women from all countries and professions in cinema have just made the red carpet entrance for LES FILLES DU SOLEIL (GIRLS OF THE SUN) by Eva Husson. #Cannes2018 #Competition pic.twitter.com/0YY9SNbRqg

— Festival de Cannes (@Festival_Cannes) May 12, 2018
Seventy years of shocking gender inequality in the film industry unveiled itself for the world as this group of resolute and ambitious women stood in silence – a silence that spoke too loud.
This movement took place on the fifth day of the festival, coinciding with the evening's film "Girls of the Sun," directed by Eva Husson, and revolves around female fighters.
Anticipation of change and betterment
A lot of these women further took to twitter to promote their protest, and were met by overwhelming appreciation for their brave step.
Amber Heard passionately expressed the gravity of this movement, adding, "I feel so proud to be among such brave, powerful and important women as I stand up to see real change happen now."
Tonight at the Cannes Film Festival I was proud to stand in solidarity with my sisters in support of the #MeToo and #TimesUp movements. pic.twitter.com/eIojsJzsy9

— Amber Heard (@realamberheard) May 12, 2018
Kristen Stewart gushed, "To hear the statistics out loud, spoken from the mouth of someone like Cate, and then to look down and see everyone together, honestly I was so lucky to exist today, and just really baffled by my place in that."
She highlighted the honor it was to be a part of #WomenInMotion, "I'm a lucky girl, and to be honest, we all are."
Change is being expected from film industries all around the world, eventually, if not sudden, and women have proved they are ready to fight for it.