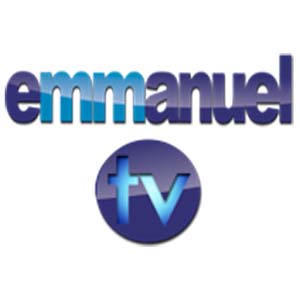 Watch Emmanuel TV Live Stream 24/7 hours. This is most watched and largest television channel in Africa. It was founded in 2006 by T.B.Joshua, Pastor of The Synagogue Church Of All Nations (SCOAN). Recently it is working in possession of Emmanuel global network. With more than 400,000 subscribers it is most subscribed ministry channel on Youtube in all over the world. Emmanuel broadcast its transmission in the English language in Africa, some parts of Europe and Central America.
This channel also known for best moto in the past like Distance is not a barrier. Best thing is they encourage viewers to pray with T.B. Joshua by "touching the Screen". Joshua made access to the channel possible to prisoners and hospitals. Many people claim including Nollywood actress Tonto Dikeh that they had received healing through the prayers. One Emmanuel TV's YouTube videos are ranked as the fourth most viewed video ever within Nigeria by Google.
Watch Emmanuel TV Live Stream Nigeria
Watch Emmanuel TV Live Stream telecasting from Nigeria. Enjoy 24/7 hours internatioanl and national programs online streaming,

Read More About Emmanuel TV
Slogan
Changing Lives, Changing Nations, Changing the World
Website
In 1990 SCOAN (Synagogue Church Of All Nations) started distribution of video cassettes which show the clips of Joshua's early ministry and alleged miracles. Along with Joshua start the regular programming on local Nigerian TV with show name "miracles". But in 2004 NBC (Nigeria's National Broadcasting Commission) banned this show under an instruction of PresidentOlusegunObasanjo. Many other programs were also stopped.
Then Emmanuel TV made her path again in March 2006. Emmanuel TV on aired Christian programs with the purpose to preach the Good News to all humanity. In a very short time, it got much popularity and became one of the traditional Africa's channels. BBC described Joshua as Nigeria's best televangelist.
General information
| | | |
| --- | --- | --- |
| Sr. No | Contents | Details |
| 1 | Launched Date | 8 March 2006 |
| 2 | Owner | Emmanuel Global Network |
| 3 | Country | Nigeria |
| 4 | Headquarter | The Synagogue Church Of All Nations |
| 5 | Language | English |
| 6 | Broadcast area | North /Central America Africa Europe areas |
| 7 | Picture Format | 480i (SD – US) 575i (SD – Africa) |
Availability
Satellite Availability
Glorystar Christian satellite North America
Channel 110
Emmanuel TV programs can see in all over the world by satellite stations. In Africa, its weekly produced many local television stations I November 2015 as debuting on GOTv and DStv. In February 2016 it starts transmission on Startimes. The Payout centre of Startimes situated in Johannesburg, South Africa.
Programming
| | |
| --- | --- |
| Sr. No | Programs |
| 1 | Testimony Time |
| 2 | Standard For Life |
| 3 | God Is Still Saying Something |
| 4 | Roadmap: Reaching Out To A Troubled World |
| 5 | Sunday Live Service |
| 6 | Friends and Heroes |
| 7 | House of Love |
| 8 | Reliance on God |
| 9 | Relationship Begins with God |
| 10 | Life through the spirit |
| 11 | Another ministry- Suleja |
Emmanuel TV Live Stream on aired programs from The Synagogue, Church of All Nations. The channel has gotten the reputation as only Christian station that does not syndicate programs of other pastors. It also does not run any on-air campaigns for financial help. Some famous programs of the channel are Sunday Live Service. It is one of the most famous programs of Emmanuel TV. It runs on an entire day on the channel.