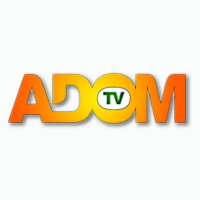 Watch Adom TV Live Streaming from Ghana.it is a part of Multi TV. Multimedia group is one of the largest media group in Ghana and owned many radio and TV stations. Adom TV Ghana is privately owned satellite television stations located in Accra, Ghana and broadcasts its transmission by Multi TV. Multi TV  established in 2009 by Multimedia group limited. it is an entirely Ghanaian television channel and brings different programs according to the viewer's interest. The Adom TV Live Streaming  produces News, Political programs, sports, local movies and entertainment programs.
The channel presents the perfect view of culture and tradition by different types of documentaries and programs. Adom TV is the most watched television station in Ghana and got much fame as a part of Multi TV network. Multi TV won many awards for different programs.
Watch Adom TV Ghana Live Stream
Watch one of the most famous TV channel that is Adom TV live stream from Ghana in English. It is telecasting in Full HD quality, Please wait the stream is loading.

Read More About Adom TV
Slogan
Just thrills…
General information
Some details are listed below.
| | | |
| --- | --- | --- |
| Sr. No | Contents | Details |
| 1 | Launched Date | 2009 |
| 2 | Owner | Multimedia Group Limited |
| 3 | Headquarter | Accra |
| 4 | Broadcast area | Ghana |
| 5 | Language | English |
Programming
Adom TV Live Streaming broadcast a wide range of programs. Some notable programs of the channel are given in the table. Have a look at these programs
Firefor Fire
One of the best sports programs for sports lovers on Adom TV is Fire for Fire. It is a current affair sports program which sets agenda and tackles the sports events for Ghanaian sports in all over the world. The host of the program is Songo. These programs discuss the latest sports issues and Songo deliberates the caller on different sports related issues.
Badwam
It is a morning magazine show which brings the latest news and political discussions with the guests.
Jerico Hour
It is a religious program and teaches the people about prayer that carries eternal decrees and satisfaction.
| | | |
| --- | --- | --- |
| Sr. No | Programs | Category |
| 1 | ADOM KASEE | Health program |
| 2 | AFISEM ON BADWAM | Family morning show |
| 3 | ADOM WEEKDAY MOVIES | Movies |
| 4 | AWARESEM | Educational program |
| 5 | YESE YESEE | Ghana Twi Movie series |
| 6 | KUMKUM BHAGYA | Drama series |
| 7 | ODO AHOMASO | Live talk show |
| 8 | ENGLISH PREMIER LEAGUE | Sports program |
| 9 | PAMPASO | Religious show |
| 10 | JOE BOY 3,4 | Musical show |
| 11 | GLORY PRAYER | Religious program |
| 12 | HIGHLIFE | Musical program |
| 13 | ACCRA LIFE | Cultural show |
| 14 | ABIBIDURO AYARESA | Health educational program |
| 15 | VOICE OF HEALING | Religious show |
| 16 | BISA NNWOM | Musical program |